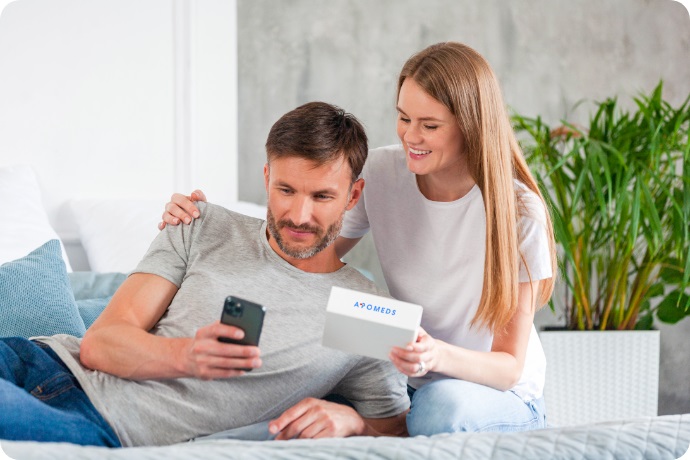 What do we do?
Our mission is to simplify your digital medication purchase and sweeten it with our various service offerings. There is the possibility of using an online doctor service or we pick up your prescription in Germany and coordinate the fast delivery of your order. Our portal specializes in various lifestyle treatments for men and women, which can be treated with prescription drugs on private prescription.
At Apomeds, you can easily redeem your prescription by sending it to our German address. Further, you have the option to request an e-prescription through the partner online doctor service. At the end of your order, you can choose whether you want us to deliver your order by standard delivery within 2 to 3 days, or by express the following day for an additional fee.
Our values
Safety
The safety of our customers is our top priority. We obtain your German medication from trustworthy and official sources, and before we ship any medication to you, we check your medical history and what medications you are taking concurrently to ensure that there is no health risk.
Fast processing
We believe that medical requests should be processed as quickly as possible so that you receive your products and services quickly without delay. Unless something out of the ordinary happens or is present, we ensure that all parties involved are working efficiently and within contractually agreed response times.
Privacy
We work with health-related data. Data protection is therefore a top priority for us. We take your privacy very seriously and only share details with your consent with relevant parties on a need-to-know basis, e.g. courier companies only see your name and address or pharmacies only see the data they need to compile your purchase for you risk-free. You can learn more about this topic in our privacy policy..
Free choice
With Apomeds, you have the choice of how you want to receive your medications. Thanks to our customized services and with the help of our partners, we are able to offer you to redeem the prescription from your GP, as well as the issuing of an e-prescription through the partner online doctor service. In addition, with Apomeds you always have the freedom to choose how you would like to receive your medication: Either by delivery as standard shipping within 2 to 3 days or by express shipping the following day.
Simplicity
Digital purchasing of healthcare products as well as medical services can be quite complicated. We spare no effort or expense to optimize, continuously improve and make your online shopping experience as user-friendly as possible.
High level of service
The highest level of service applies not only to our product range, but also to our service. Our professional team makes sure that your health is guaranteed above the required standards.
Contact us
You can easily reach us by email, and we promise that you won't have to wait more than one business day for our response. Or simply use the live chat function and chat with one of our friendly customer service representatives. Another option is to contact us by phone: Monday - Friday, 9:00 am to 5:00 pm. And if you're looking for direct personal interaction: Our doors are always open to you.
Apomeds NL B.V.
Phileas Foggstraat 3 A, 7821 AL, Emmen , Netherlands