---
What is hirsutism?
The word hirsutism stems from Latin and means hairy. This term is typically used when women exhibit excessive hair growth. Hirsutism develops through a change from vellus hair (peach fuzz) into terminal hair (long hair) and can be genetic, hormonal or a side effect of certain medications. These factors can elicit an increase of androgens and thus the hair on the body grows in a masculine way. This condition is especially common among oriental women, but also in Europe and among fair-skinned and Nordic women. If the cause is a hormonal dysfunction, it is called polycystic ovarian syndrome (PCOS). Among the most common symptoms of this condition are weight-gain, excessive facial hair, and chin stubble.
---
Which areas of the female body are affected?
Strong, long hair can grow around the jaw, upper lip and on the chin. Unlike peach fuzz, this hair is often dark. Moreover, strong hair growth can also affect the belly, thighs, the nipple margin, and the bottom.
---
How does facial hair develop in a women?
The increased release of an enzyme called ornithine decarboxylase results in strong hair growth. To explain, this enzyme is located in the hair follicle and stimulates hair growth. The cause can be hormonal, medicinal or genetic. Only a medical examination can tell you the exact cause.
---
Why do women want to remove their facial hair?
Nowadays, it is not desirable for a woman to be hairy. On the contrary, it is considered attractive for women to have no body hair. Facial hair, in particular, is frowned upon and is viewed as masculine. Even a single loose hair on the chin gives many women headaches. Luckily, there are solutions to these problems. Hirsutism is not uncommon at all and about 5-10% of all women suffer from it.
---
Different methods of facial hair removal
There are several methods for hair removal that you can opt for. However, keep in mind that it is important to find out the cause of the excess hair growth first. If the reason is genetic or too much male hormone, then the following methods could help:
A birth- control pill for the alignment of the hormones
Long-term laser treatments
Creams that inhibit the enzyme responsible for the hair growth
Hair- removal with the help of waxing, tweezing or threading
f the excessive hair growth is caused by a certain medication you are taking, you should consult a doctor and the next steps should be reviewed together. In case it is possible to change the medication, you should try that before taking any other hair removal method.
---
The following medications can contribute to an increased hair growth:
Steroids
Cyclosporine
Phenytoin
---
Which birth- control pills help with reducing excessive facial hair growth?
A lot of contraception pills have an anti-androgen effect. For example, the following combination pills are recommended:
You can find all of the above-mentioned products on our platform. However, please note at Apomeds, you can order birth-control pills only through a follow-up prescription.

---
How can facial hair be treated with creams?
Vaniqa is a cream specially developed for women with excessive hair growth on the face (throat, chin, upper lip). The active ingredient it contains, eflornithine, acts directly on the hair roots and inhibits the enzyme that is responsible for hair growth, respectively ornithine decarboxylase. As a result, facial hair reduction is guaranteed. Vaniqa stops the growth process completely or reduces it significantly. Up to this date, this is the only approved cream against hirsutism.
---
Buy Vaniqa online
You can request treatment for hirsutism online, at Apomeds. You will need to fill out an online questionnaire, which will be reviewed by one of our licensed physicians. Please keep in mind that you will receive a prescription only if you are suited for the Vaniqa cream. The product will be sent from a mail-order pharmacy, in a discreet package, to your home. The order should arrive within 2 working days. You can find more information about the ordering process on our How Apomeds works page.
---
More information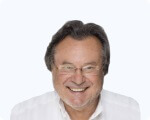 Walter Brinker studied medicine in Cologne. After his specialist training in gynecology and obstetrics and several years as a senior physician, he settled in Remscheid, where he now runs a joint practice with two colleagues. He was educated in the USA, China, Poland, Congo, Zimbabwe and later also taught there. He is also in possession of the American approbation. In Germany he conducts seminars on contraceptives. Through his work abroad, he is also trained in travel medicine and supervises travel groups on exotic trips around the world as a doctor.
Last reviewed: 10.05.2021