What is Cerazette?
Cerazette is an oestrogen-free birth control pill. It is called a mini-pill because it contains only one hormone, in comparison to the combined preparations, which contain two female hormones. Cerazette is used as a hormonal contraceptive and was first used medically in Europe, in 1981. The active ingredient found in the pill, desogestrel, is a synthetic progestin from the 3rd generation. As well as oestrogens, progestins are part of the second important class of female sex hormones, which belong to the group of steroid hormones.
How Cerazette works
Desogestrel is a so-called pro-drug in which the gestagenic effect is caused by the active metabolite 3-keto-desogestrel. This substance causes a change in the consistency or thickening of the cervical mucus in the area of the cervix. As a result, male sperm is no longer able to enter the uterus and ovulation is also suppressed.
Cerazette Leaflet
How to take Cerazette pills
Take the pill by mouth, with a glass of water. Start the treatment on the first day of menstruation. Continue to take the pill every day, at the same time each day, for 28 days. You may start a new pack after taking the last pill of the previous packet. The mini-pill is very effective in low doses. Also, the hormonal preparation contains only 0.075 mg progestin-desogestrel, so you can take it even if you are breastfeeding. It offers effective protection against becoming pregnant again.
Side effects
Due to the low dosage, the side effects are weaker compared to those of a combined pill. Side effects may not occur, but you might experience some symptoms since every person reacts differently to certain medications.
Common side effects:
Irregular vaginal bleeding
Acne
Absence of bleeding
Weight gain
Headaches
Chest pain
Decreased libido
Depressive mood or mood swings
Occasional side effects:
Vomiting
Menstrual pain
Hair loss
Vaginal fungus
Fatigue
Cysts on the ovary
Difficulties while wearing contact lenses
If any of the above or other side effects occur, tell your doctor immediately. Read the Patient Information Leaflet for detailed information on side effects, contraindications and drug interactions.
Contraindications and interactions
The Cerazette birth control pill should not be taken if you have hypersensitivity to the active substance, desogestrel, or any other constituent, such as lactose. Also, in case you have thrombosis in the lungs or legs, it is not safe to take birth control pills. This also applies to current or previous liver disease. Finally, all hormone-related cancers and tumors are also contraindicated.
In short, the following diseases must be clarified with the doctor before taking the birth control pill:
Liver cancer
Thrombosis
High blood pressure
Tuberculosis
The effectiveness of the Cerazette pill is decreased or reversed by the following medications:
Anti-epileptic drugs
Medicines for stomach upset,
Anti-tuberculosis drugs,
Medicines for treating depression,
Infectious diseases and HIV
Order the mini pill online
We are aware that in order to prescribe this medication, it is necessary to check whether the person is suitable to take it. Apomeds connects you to mail-order pharmacies and EU-qualified doctors, who check your medical questionnaire for contraindications and interactions with other medicines. You can safely and discreetly order your birth-control pill online! As stated above, please note that you can order birth control pills on our platform only via a follow-up prescription.
Besides Cerazette we also have the following progestogen birth control pills in stock:
Can I buy Cerazette without a prescription?
There are websites where you can order birth control pills prescription-free. However, we advise you to not order Cerazette without consulting a doctor first, as it is not suitable for all women. Do not order Cerazette unless you have a prescription from a certified doctor, who has checked if this medication is safe and suitable for you.
Who can use Cerazette?
The Cerazette mini-pill is suitable for adult women who don't have any serious health issues and want to prevent pregnancy. Also, you can take it even if you are breastfeeding. If you are intolerant to oestrogen, or suffer from severe symptoms such as menstrual migraine, or oestrogen-related side effects like oedema, the medicine is also suitable because it does not contain oestrogen.
Can I get pregnant even if I use Cerazette?
If you take the pill exactly as instructed, namely each day, at the same time of the day – it will be 99% effective. Consequently, the chances are extremely low to get pregnant if you take the pill correctly.
What happens if I miss taking a pill?
If you forget to take one birth control pill, take the dose as soon as you remember. In case you manage to take the pill less than 24 hours after you were supposed to and it's not a pill at the beginning of a new pack, there is no need to use another contraceptive method. However, if you do not meet these criteria, you need to use a back-up method. Ask your prescribing physician for more information.
Can I change the time of the day I take the Cerazette pill?
Although it is not advised, you can change the time when you take the birth control pill. The most effective way is to change the schedule when you start a new pack. Also, make sure the new time isn't more than 24 hours after the old one.
Buy Cerazette online
You can conveniently select the desired treatment on our website and complete an online questionnaire, which will be reviewed by our EU-licensed doctors, to assess if you are suitable to use the mini-pill. The follow-up prescription will then be issued and delivered to your home, with the oral contraceptive in a discreet package. For more information on how Apomeds works, please click here.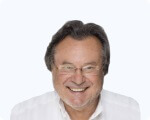 Walter Brinker studied medicine in Cologne. After his specialist training in gynecology and obstetrics and several years as a senior physician, he settled in Remscheid, where he now runs a joint practice with two colleagues. He was educated in the USA, China, Poland, Congo, Zimbabwe and later also taught there. He is also in possession of the American approbation. In Germany he conducts seminars on contraceptives. Through his work abroad, he is also trained in travel medicine and supervises travel groups on exotic trips around the world as a doctor.
Last reviewed: 10.05.2021