What is Cerelle?
Cerelle is used as a hormonal contraceptive. The estrogen-free contraceptive pill is referred to as a so-called mini-pill, because in contrast to the combined preparations, which have two female hormones, it only contains one hormone. The active ingredient,desogestrel, is a synthetic gestagen of the 3rd generation. In addition to the estrogens, the gestagens are among the second important class of female sex hormones, which are classified under the group of steroid hormones. The mini-pill has a very high efficacy and is highly contraceptive at low dose. The hormonal drug contains only 0.075 mg of progestin desogestrel, and can also be taken by nursing women. Here it offers effective protection against becoming pregnant again.
The effect of Cerelle
Desogestrel is a so-called prodrug, in which the gestagenic action is carried out by the active metabolite 3-keto-desogestrel. This substance changes the consistency or thickening of the cervical mucus. Male sperm are therefore no longer in the uterus and also ovulation is suppressed, so the efficacy of the contraception is significantly increased.
Cerelle-Patient Leaflet
Side effects of Cerelle
Due to the low dosage, the side effects are less than those in a combination pill.
Regular side effects:
Irregular vaginal bleeding
Acne
Absence of vaginal bleeding
Decreased libido
Weight gain
Breast tenderness
Headache
Moodiness
Vomiting
Occasional side effects:
Fatigue
Menstrual pain
Hair loss
Vaginal fungus and infections in the vaginal area
Cysts on the ovary
Difficulties while wearing contact lenses
If any of the above or other side effects occur, tell your doctor immediately. Read the leaflet for detailed information on the side effects, contraindications and drug interactions.
Contra-indications and interactions with other medications
In case of known hypersensitivity to the active substance desogestrel, or to any other constituent, such as lactose, Cerelle birth-control pills should not be taken. Women with thrombosis in the lungs or legs should not take contraceptive pills. This also applies to current or previous liver disease, all types of hormonal cancer and tumours. Even in the case of unexplained, irregular vaginal bleeding, Cerelle should not be used.
Before taking Cerelle, in case of the following acute and previous illnesses a doctor must be consulted:
Liver cancer
Thrombosis
Diabetes
Hypertension
Tuberculosis
Is Cerelle suitable for all women?
The Cerelle mini-pill is ideal for women over the age of 18 and for breastfeeding mothers. In case of intolerance to estrogen this medication is suitable. In women who suffer from severe premenstrual symptoms, such as menstrual migraine, or estrogen-related side-effects, such as edema, the drug is also suitable because it does not contain estrogen.
Order progestogen only pills online
Apomeds connects you to a registered mail-order pharmacies and EU-accredited physicians, who check your completed questionnaire for contraindications and interactions with other medicines. So you can safely and discreetly order your birth control pill online! Please note we can only issue a follow-up prescription for birth control pills.
In addition to the contraceptive pill Cerelle, we also have the following contraceptive pills in the range:
can fill out an online questionnaire that will be approved from licences doctors who can issue you a follow-up prescription. Then the follow-up prescription will be send directly to the registered mail order pharmacy and the oral contraceptive will be send home in a discreet package. Read here more about how the service works.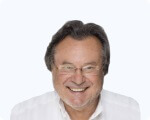 Walter Brinker studied medicine in Cologne. After his specialist training in gynecology and obstetrics and several years as a senior physician, he settled in Remscheid, where he now runs a joint practice with two colleagues. He was educated in the USA, China, Poland, Congo, Zimbabwe and later also taught there. He is also in possession of the American approbation. In Germany he conducts seminars on contraceptives. Through his work abroad, he is also trained in travel medicine and supervises travel groups on exotic trips around the world as a doctor.
Last reviewed: 10.05.2021