What is Cialis?
Cialis, after Viagra, is probably one of the best-known drugs for the treatment of erectile dysfunction. The drug was launched at the end of 2002 for the first time, by Lilly Pharm. The active substance present in it is called Tadalafil. In short, Cialis promotes the blood supply to your penis, making the outflow slower. As a result, you can get and maintain a hard penile erection. In Cialis, the effect is significantly longer compared to other similar drugs, as it lasts up to 36 hours. Also, that is why Cialis is also called the weekend pill.
Cialis uses
This drug is generally used to treat erectile dysfunction. However, you may use it for other health issues, too. For instance, it can also be prescribed to you as an effective treatment for premature ejaculation, enlarged prostate or pulmonary arterial hypertension. If Cialis is prescribed to you as an impotence treatment, keep in mind that it does not protect you against STDs. Use another method to prevent that, such as condoms.
How do take Cialis?
The ingestion process depends on the dosage you want to take. To explain, you should take the 10mg and 20mg dosages about 30 to 60 minutes before intercourse. The effect will last up to 36 hours. However, if you are in a relationship and want to have regular sex, your doctor might recommend taking Cialis Daily. This is another variant of Cialis, with tadalafil 2.5mg or 5mg. Due to the low dosage of tadalafil; you may take the pill daily.
Take the tablet by mouth, with a glass of water. Do not crush or suck the pill. The maximum dosage of Cialis is 20mg per day. Do not exceed the recommended dosage!
How long does Cialis last?
Results may vary from person to person. Nevertheless, on average, the effect begins 1 to 2 hours after you ingest the pill. Also, the effect lasts up to 36 hours, which is much longer compared to any other sexual enhancer.
Main treatment information
| | |
| --- | --- |
| Product Name: | Cialis |
| Active Ingredient(s): | Tadalafil |
| Manufacturer: | Lilly Pharma |
| Available Dosage: | 10mg, 20mg |
| Drug class: | PDE5 inhibitor |
| Exemption: | Subject to medical prescription |
Which dosage is recommended if you never took Cialis before?
Most doctors recommend starting with Cialis 10mg to see if its effective for you. If it was too strong or you experienced strong side effects, you can adjust your dosage accordingly. The maximum dosage of Cialis is 20mg per day. Do not exceed the recommended dosage.
Cialis Leaflet
Side effects
Not all men who take Cialis experience side effects, but if you do, there is nothing you should worry about. The side effects of this pill are typically very mild and pass in a short time. The most common symptoms include:
headache
Stuffy nose
Nausea
Flushing
Stomach discomfort
Back pain
These side effects do not usually need medical attention. Besides, you may experience them only at the beginning, when your body adjusts to the medicine. Read the leaflet for detailed information on the side effects of Cialis.
Interactions
The active substance of Cialis can interact with other medicines you are taking. Please tell your doctor what drugs you are taking before using this impotence pill.
Cialis can interact with:
Drugs containing nitrates
Antihypertensive agents like alpha-blockers
Certain antifungal drugs
Antibiotics
Heart problem medications
This classification is not complete, so you should always consult your doctor before starting or stopping this medication.
Contraindications
Do not take Cialis if you have the following health issues:
Allergy to tadalafil or other medications
Alcoholism
Liver disease
Cardiovascular diseases
Pulmonary diseases
Hearing loss
Recent stroke or heart attack
What is the difference between Cialis and Viagra?
A major difference between the two ED drugs is the duration of effect. Cialis works up to 36 hours whereas Viagra lasts up to 5 hours. That means in this time frame Cialis will help you get an erection, but only if you are sexually stimulated. The good thing is that you don't need timing in this period. With Viagra, you still need to plan, as it works only for up to 5 hours.
On the other hand, Cialis needs about one to two hours to kick in, while Viagra needs only 30 minutes. There are also differences when it comes to doses. Cialis initial recommended dose is 10 mg, and you can decrease it or increase it. Viagra is usually taken in 50 mg dose, but you can also change the dosage. The cost of both medical products is similar. Therefore, in terms of which is better, you are the one to decide. For instance, if you experience adverse effects from Cialis, you can opt for Viagra. At the same time, if you get no side effects and want the effect to last longer, then choose Cialis!
Does Cialis have a shelf life?
Like any other medication, Cialis has an expiration date. This date is usually written on the back of the package. Please, do not use the med product if the date is expired. It's better to buy Cialis a new. If you take an expired pill, you may only harm yourself. Please, don't do that.
Will I get Cialis without a prescription?
Cialis is a drug that needs a prescription from a doctor. You can't buy it over the counter, even if some online pharmacies offer it. At Apomeds you can buy Cialis in the UK online. Just fill out the online questionnaire and the medicine will be delivered to your home, discreetly packed, together with the online prescription. Apart from Cialis, Apomeds offers other erectile dysfunction treatment drugs such as Levitra, Viagra, and Spedra. Read here more about our medical advosry board.
Is there a generic version of Cialis available?
The patent for Cialis expired, so a generic version of the drug was created. To explain, the main difference between generic and original drugs is only the price. The first ones are much cheaper but contain the same active ingredient.
The generic version of Cialis is Tadalafil. Also, you can find another version of the drug, named Cialis Daily. However, please note that they all require a prescription. You can find them all on our platform. We can issue an electronic prescription for you and make the purchasing much easier. Next to generic Cialis you can also request generic Viagra called Sildenafil and generic Levitra known as Vardenafil.
Where can I buy Cialis tablets online?
Many men would like to avoid visiting a doctor for this problem, or they just have no time for it. Apomeds doctors will review the online questionnaire and our registered mail-order pharmacy will send you genuine Cialis directly home, if you are eligable. Avoid buying potency drugs from dubious Websites that are not regulated. Read here more about how the service works. Read more about our medical advisory board, here.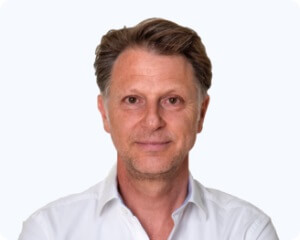 Dr. med. Christoph Pies, born in 1970, studied medicine in Bochum and Düsseldorf before he found his true calling as an urologist in a Cologne clinic.Staying abroad has taken him to clinics in Switzerland and the USA (Houston, New York, and Los Angeles). After training as a specialist and senior physician, he became an urologist in 2004, near Aachen. He has additional qualifications in Andrology and Medicinal Tumor Therapy.
Last reviewed: 23.10.2020