What is the ED- Generic Trial Pack?
The ED Generic Trial Pack is specially for men with erectile dysfunction problems who are ordering treatment for the first time. The Trial Pack has three ED medicines with different active ingredients, all of them PDE-5 inhibitors. With the Trial Pack you can find out to which of the medications you respond the best and which one of them has fewer side effects for you.
Which medications are included in the ED Generic Trial Pack?
The ED Generic Trial pack includes generic medications. All generic medications are licensed and require a prescription just like the branded versions. The Ed Generic Trial Pack includes 4 pills of each medication.
Sildenafil 25mg 4 Tablets ( Viagra Generic)
Tadalafil 10mg 4 Tablets ( Cialis Generic)
Vardenafil 5mg 4 Tablets (Levitra Generic)
ED Generic Trial Pack Leaflets
How to take the medications?
Its important to take only one tablet a day. Do not exceed the maximum dose. In case of Tadalafil or the generic Cialis, you should wait at least 36 hours before taking another ED medication. All ED medications can be used with or without food, however, they may be less effective if you have consumed a high-fat meal prior to treatment.
Sildenafil : 25 mg tablet to be taken as a single dose approximately 1 hour before sexual activity. Effect lasts for around 4 to 5 hours.
Tadalafil: 10mg tablet to be taken as a single dose at least 30 minutes before sexual activity. Tadalafil can last up to 36 hours.
Vardenafil : 5 mg tablet to be taken as a single dose 30-60 minutes before sexual activity.Its effect lasts for up to 7 hours.
What is the purpose of a ED Generic Trial Pack?
Each man reacts different to the active ingredient in each ED medication and each one has different preferences. The ED Generic Trial Pack helps you to find out which medication works best for you. The ED Generic Trial Pack as opposed to the regular ED Pack has the generic versions of each medication and is therefore cheaper in price.
How to use the ED Generic Trial Pack?
Its very important to follow the doctor's instruction for each of the medications. Do not take more than one pill a day and in case of Tadalafil in 36 hours. If you experience side effects stop the medication and consult with your doctor. Do not ever mix different medications as there can be interactions between them.
What should I do after I finish the Trial Pack?
After you tried the medication you should be able to understand which of this medication works best for you. Based on this information you can now use our service to order the medication that suits you best. Now you can order Sildenafil, Tadalafil or Vardenafil in larger amounts.
Which side effects can occur with Erectile Dysfunction medicines?
Common side effects - up to 1 in 10 users
Sildenafil: Headache, Nausea, facial flushing, hot flush (symptoms include a sudden feeling of heat in your upper body), indigestion, colour tinge to vision, blurred vision, visual disturbance, stuffy nose, and dizziness.
Tadalafil: Headache, back pain, muscle aches, pain in arms and legs, facial flushing, nasal congestion, and indigestion.
Vardenafil: Headache, Dizziness, flushing, runny nose, indigestion
For more information on side effects and contradictions please see the package leaflet of the relevant medication.
How to order the ED Generic Pack online?
If you are interested in ordering the ED Generic Trial Pack, click on choose treatment. After that fill in the medical questionnaire that will be checked by our GP that will issue a prescription if you are eligible to take the ED medications. For more information on how Apomeds works, click here. Read more about Apomeds medical advisory board.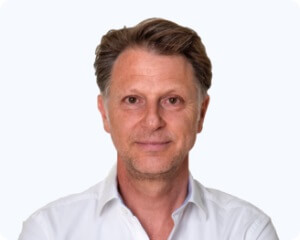 Dr. med. Christoph Pies, born in 1970, studied medicine in Bochum and Düsseldorf before he found his true calling as an urologist in a Cologne clinic.Staying abroad has taken him to clinics in Switzerland and the USA (Houston, New York, and Los Angeles). After training as a specialist and senior physician, he became an urologist in 2004, near Aachen. He has additional qualifications in Andrology and Medicinal Tumor Therapy.
Last reviewed: 23.10.2020
Date published:
Last Modify: