What is ellaOne?
EllaOne is used as a morning-after contraception pill for the prevention of an unwanted pregnancy. You may take it up to 120 hours after unprotected intercourse. This emergency contraception prevents ovulation and therefore pregnancy
Please note that EllaOne should not be your main birth control method. You may use it only in some cases, such as when your usual contraception method fails to work or after you had unprotected intercourse. EllaOne is the most commonly prescribed morning-after pill. The medication can be taken up to 120 hours after unprotected intercourse. This emergency contraception prevents ovulation, and therefore pregnancy.
How does EllaOne work?
The morning-after pill contains the active ingredient ulipristal acetate and changes the effect of the natural hormone progesterone, which induces ovulation. As a result, ovulation is postponed and the sperm becomes ineffective. After taking the pill you can expect your menstruation to return at the usual time. Also, a late period does not necessarily mean that pregnancy took place. However, if your period is late for more than seven days, you should take a pregnancy test.The effect of the morning-after pill is almost 100% effective since statistically, only two out of 100 women become pregnant even after taking the emergency pill.
How to take the pill
Take the pill by mouth, with a glass of water. The medication should not be administered later than five days after unprotected intercourse. Nutrition does not have any effect on the pill. If you need to vomit within 3 hours after ingesting the pill, you have to take another one, since the effect is otherwise not guaranteed.
EllaOne Leaflet
Side effects
Like most medications, taking the emergency contraception pill can cause side effects for some women. Be aware that symptoms like nausea, upset stomach, vomiting, and a feeling of tension can be signs of pregnancy. Take a pregnancy test to identify the cause of the symptoms.
Common side effects include:
Nausea
Pain in the lower abdomen
Muscle and back pain
Dizziness
Stomach pain
Headache
Tension and pain in the breast
Tiredness
The morning-after pill may affect the menstrual cycle and your next period might come a few days early or late.
If any of the above or other side effects occur, seek medical assistance. Read the Patient Information Leaflet for detailed information on side effects.
Contraindications and drug interactions
If you are allergic to the active ingredient, ulipristal or ulipristal acetate, you should not use EllaOne. Also, do not take this type of pill with a birth-control pill or while having a gestagen-releasing IUD (intrauterine device). The absence of the following diseases has to be clarified with the doctor before taking the pill:
Unexplained vaginal bleeding
Severe liver disease
Asthma
Extreme overweight
Please note that the drug passes into breast milk, so if you are breast-feeding, do not take EllaOne.
On the other hand, the effectiveness of EllaOne is reduced or hampered while taking the following medications:
Anti-epileptic drugs
Amber
Medication for fungus, upset-stomach or tuberculosis
Medicine for depression
Antibiotics
HIV/AIDS treatments
Can I buy EllaOne without a prescription?
Since 2015, ellaOne can be bought in European pharmacies without a prescription. All you have to do is answer a few health-related questions. At Apomeds, we also ask you a few questions via an online questionnaire, to ensure EllaOne is the best option for you. After that, we forward your order directly to the mail-order pharmacy and the morning-after pill arrives, within 48 hours, at your home. At Apomeds you can also order the morning after pill Levonelle.
Is EllaOne suitable for all women?
The emergency contraception pill is suitable for all women of child-bearing age. The medicine has no effect if the egg is already fertilized and you are already pregnant. Also, it is important to note that the morning-after pill is an emergency pill and using it regularly is not recommended. Besides EllaOne, you can also find Levonelle on our platform. Please be advised that these medications are not a permanent contraception method and should only be taken in an emergency. Discuss with a professional before taking them.
How long after unprotected intercourse should I take the pill?
You should take the morning-after pill as fast as possible after the unprotected sexual intercourse, but no later than five days or 120 hours after. To explain, sperm can live up to five days after intercourse in your body and the egg can become fertilized during that time. The emergency pill can be taken at any time during the menstrual cycle.
What happens if I take EllaOne twice in a month?
It is not recommended to use the morning-after twice during a menstrual cycle. Using it repeatedly can disrupt your natural menstrual cycle; therefore it is important to discuss this aspect with a professional.
Can I consume alcohol after taking the pill?
Yes, you can consume a moderate amount of alcohol after taking EllaOne. To clarify, alcohol does not make the active substance less effective at preventing pregnancy and postponing ovulation. For more information, read the Patient Information Leaflet.
Buy ellaOne online
Simply request treatment on our website and answer five short questions. We will send you the pill, within the next two working days, in a discreet package, directly to your home. Read more about how Apomeds works here.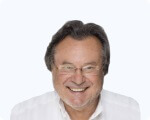 Walter Brinker studied medicine in Cologne. After his specialist training in gynecology and obstetrics and several years as a senior physician, he settled in Remscheid, where he now runs a joint practice with two colleagues. He was educated in the USA, China, Poland, Congo, Zimbabwe and later also taught there. He is also in possession of the American approbation. In Germany he conducts seminars on contraceptives. Through his work abroad, he is also trained in travel medicine and supervises travel groups on exotic trips around the world as a doctor.
Last reviewed: 10.05.2021
Date published:
Last Modify: