What is Ovranette?
Ovranette is a combined contraceptive pill that contains two active substances, namely progesterone, and estrogen. It is considered a micro-pill because the quantity of active ingredients is below 30 micrograms. If you take it correctly, Ovranette is 99% effective in protecting you from pregnancy!
Ovranette uses
The hormones in Ovranette prevent your ovaries from releasing an egg; hence, they stop the process of ovulation. You can use it as an efficient contraceptive, in case you don't want to get pregnant. Also, it may be prescribed to treat other symptoms, such as painful menstruation, or heavy bleeding from the womb.
How to take the contraceptive pill Ovranette
Take the pill once a day, with a glass of water, at the same time of day. Do not chew or suck the pill. There are three ways you can approach this treatment. To begin with, the most common method is to take the pill for 21 days. After that, take a seven-day break, when menstruation takes place. When you complete the cycle, you may start a new package.
On the other hand, you can also take Ovranette in the following ways:
One micro-pill per day for 9 weeks, then no pills for the next 4 or 7 days.
One micro-pill per day, each day, without a break.
We advise you to take a break from the treatment every four months to let menstruation take place. To explain, in this way you will minimize the irregular and unexpected spotting bleeding.
What to do in case you miss a dose
In case you forget to take a pill, take it as soon as you remember. This applies if it has been less than 24 hours since you should have taken it. In case it has been more than 24 hours, do not take an extra dose. Continue the treatment, as usual. Most importantly, use a condom for the next 7 days to ensure you are protected from pregnancy. Also, contact your doctor for further instructions.
Ovranette Patient Leaflet
Ovranette side effects
The micro-pill may cause unwanted side effects. However, they are typically very mild and go away on their own, once your body gets used to the pill.
Very common side effects:
Headache
Spotted bleeding
Stomach pain
Feeling sick
Frequent side effects:
Edema
Acne
Increased breast sensitivity and tenderness
Enlargement of the breast
Fluid secretions of the mammary glands
Dizziness
Menstrual pain
Vaginal inflammation
Discharge
Nausea and vomiting
Abdominal pain
Weight gain or weight loss
Decreased libido
Depressed mood, nervousness, mood swings
Occasional side effects:
Increase in blood pressure
Migraine
Abdominal cramps
Flatulence
Increased appetite
Rash
Pigmentation disorders, especially on the face
Hair loss
Increase in body hair, especially on the face
Rare to very rare side effects
Change in blood glucose levels
problems with contact lenses
Varicose veins
Gallbladder diseases and gallstones
Liver cancer
Inflammation of the pancreas
Stevens-Johnson syndrome (skin disease)
Inflammation of the optic nerve
Chorea minor (neurological disorder)
If you vomit or have diarrhea within 2 hours of taking Ovranette, it means the medication was not properly absorbed into your bloodstream. After the sickness diminishes and you feel well enough, take another pill. For a complete list of Ovranette's side effects, consult the Patient Information Leaflet.
Contraindications
This medication is not suitable for all women. Ovranette should not be used in the presence of any of the following health conditions:
A current or previous blood clot in a blood vessel of the legs (deep vein thrombosis), the lung (pulmonary embolism) or any other organ
A blood coagulation disorder such as protein C deficiency, protein S deficiency, antithrombin III deficiency, factor V disease or antiphospholipid antibodies
Before surgery (depending on the operation – consult with the doctor)
If you need to rest and will be immobile for a long period of time
Previous heart attack or stroke
Angina pectoris
Severe diabetes with damage to the blood vessels
Lipid metabolism disorders
Hypertension
Growths in the uterine lining
Migraine
Smoking in women over 35 years old of age
Previous breast cancer
Also, do not use Ovranette if you are allergic to any of its ingredients or other medications. Please read the Patient Information Leaflet to see the full list of contraindications.
Interactions with other medications
First of all, do not combine this micro-pill with other birth control medication that has active substances. Other medicines that may interact with Ovranette are:
Antibiotics used to treat bacterial infections
Heart problems medications
Antifungal drugs
Antidepressants
Medication used to treat HIV or AIDS
Discuss with your doctor if you are taking any medication, including herbal products, vitamins, and supplements. Also, the Patient Information Leaflet contains the full list of warnings and interactions.
Order oral contraceptives online
Your safety is our top priority! Before prescribing this medicine, we will check if you are suitable for it. Apomeds connects you to mail-order pharmacies and EU-accredited physicians, who assess your completed questionnaire with careful consideration. Please note that all contraceptive pills, Ovranette included, are only sold via a follow-up prescription.
In addition to the contraceptive pill, Ovranette, we also have the following contraceptive pills in the range:
What happens if I take too many pills?
An overdose of Ovranette will not harm you. However, you may experience certain side effects, such as nausea or feeling sick. Also, you should consult your doctor in case the symptoms concern you or won't go away.
What happens if I vomit or have diarrhea?
You may experience these two symptoms in case Ovranette was absorbed into the bloodstream through the lining of your stomach. To explain, this means the medication was not properly absorbed. After you feel better, take another micro-pill.
Is Ovranette an effective contraceptive?
When used right, Ovranette is 99% effective in preventing pregnancy. Moreover, if you start taking it during the first days of your period, you will be protected against pregnancy immediately. However, in case you start taking it later, we advise you to use condoms for at least seven days until the medicine starts to work.
What are the side effects of Ovranette?
While many women do not experience side effects at all, some do. The most common symptoms include breast discomfort, feeling sick, tummy pain, headaches, and mood changes.
Is Ovranette better than Microgynon?
There are no major differences between the two drugs. Both contain the same active ingredients and have identical uses. However, the two main differences are the prices and the companies that make them. Ovranette is produced by Pfizer, while Microgynon is made by the German pharmaceutical company Bayer.
Buy Ovranette online
Ordering Ovranette online has never been easier! You can order the pill through a follow-up prescription. To explain, this means you will be able to order the medication only if you used it before. Our EU-accredited physicians will determine if you are still suitable for the drug. Then our mail-order pharmacy will send the medication directly to your home within 24 to 48 hours. For more Information on how Apomeds works, please click here.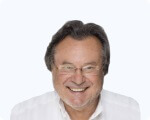 Walter Brinker studied medicine in Cologne. After his specialist training in gynecology and obstetrics and several years as a senior physician, he settled in Remscheid, where he now runs a joint practice with two colleagues. He was educated in the USA, China, Poland, Congo, Zimbabwe and later also taught there. He is also in possession of the American approbation. In Germany he conducts seminars on contraceptives. Through his work abroad, he is also trained in travel medicine and supervises travel groups on exotic trips around the world as a doctor.
Date published:
Last Modify: