What is Qlaira?
Qlaira is a birth control pill manufactured by the renowned pharmaceutical company Bayer. It contains two active substances, respectively progestin called dienogest; and estrogen, called estradiol valerate. The drug is considered a micro-pill because its hormone levels are below 50 micrograms.
Qlaira uses
The micro-pill inhibits ovulation and suppresses the hormone which induces ovulation. In other words, Qlaira prevents pregnancy. Besides, you can also use it for the treatment of heavy menstrual bleeding, if it is not caused by a disease.
How to take the contraceptive pill Qlaira
Before you start using Qlaira you should discuss it with an experienced physician. To clarify, your medical history, body type, and current health situation will determine the suitable dosage for you. In general, you should take the pill with a glass of water, once a day, always at the same time of the day.
There are different tablets with different amounts of hormones, taken during a cycle. To explain, they are adapted to provide the ideal contraception. Here is the general treatment plan:
On the first day of your period, take one dark-yellow tablet per day, for two consecutive days.
After that, take one medium-red tablet per day, for the next five consecutive days.
The next step is to take one light-yellow tablet per day, for the next 17 consecutive days.
Take one dark-red tablet per day, for two consecutive days.
Finally, take one white pill each day, for two consecutive days.
A full cycle contains 28 Qlaira pills. After you complete it, you may get a refill and start a new pack. We advise you to take the next batch of pills at the same time of the day. Also, update your doctor about your experience with the medication.
Qlaira Leaflet
Qlaira side effects
Qlaira, like any other birth control pill, can cause side effects. This is one of the reasons you must buy it with a prescription. However, because of the low hormone dosage, serious side effects do not occur often.
Common side effects are:
Headache
Lighter or irregular periods
Stomach pain
Painful menstruation
Acne
Weight gain
Nausea
Tension in the breasts
Occasional side effects include:
Edema
Increase in blood pressure
Vomiting
Rash
Flatulence
Increased appetite
Rash
Hair loss
Increase in body hair
Rare to very rare side effects include:
Increase in blood pressure
Problems with contact lenses
Bladder problems
Liver cancer
Inflammation of the pancreas
Skin diseases
Inflammation of the optic nerve
In case you experience any of the above or other side effects, contact your doctor immediately. To clarify, the symptoms categorized as common are not alarming, but the rare ones are. Read the Patient Information Leaflet for detailed information on Qlaira's side effects.
Qlaira Contraindications
Even if it has low levels of hormones, the micro-pill may not be suitable for you. The active substances can aggravate certain health issues you have. With this in mind, do not use Qlaira in the following situations and health conditions:
Qlaira must not be used in the following contraindications:
Previous heart attack or stroke
PIn case you need to rest for a certain period
PIf you are about to have a surgery
PIf you are over 35 and you smoke
PBreast cancer
PCurrent or previous blood clots in your blood vessels
PChest pain
PSevere diabetes
You will not receive a prescription if you have or had any of the above health conditions. See the Patient Information Leaflet for the full list of contraindications.
Interactions with other medications
Other medications can make Qlaira less effective. Moreover, if you combine the micro-pill with other active drugs, it can be very damaging for your health. Make sure you tell your doctor or pharmacist if you are using any other medicines.
Qlaira will not be effective if you take:
Antibiotics
Antifungal drugs
Paracetamol
Heart medications
Medicines for HIV
The list is much longer and it is available in your information leaflet. We encourage you to read it with careful consideration. In case your doctor allows you to take other medications, too, you need to use an extra method of contraception. To explain, Qlaira's effect will be diminished, increasing the risk of getting pregnant.
Is Qlaira suitable for all women?
The Qlaira micro-pill is generally suitable for healthy, young women who are looking for a safe contraceptive method. Besides, you can also use it to treat heavy menstrual bleeding and regulate your menstruation. However, if you are a smoker or have any severe health issues, this medication is not suitable for you. Please note that at Apomeds you can order Qlaira only as a contraceptive, through a follow-up prescription.
Order oral contraceptives at Apomeds
At Apomeds, your health is of utmost importance. Consequently, we sell this medication only through a follow-up prescription, released by EU-accredited physicians. Our experienced collaborators carefully check your completed questionnaire for contraindications and interactions.
After your request gets approved, you can safely order the birth contraceptive pill Qlaira. We will pack it discreetly and have it sent to your home, as soon as possible.Apomeds has the following contraceptive pills in stock:
Can I take Qlaira with my other medicines?
In general, it is not advised to take this pill with other drugs. Inform your doctor about all medicines, as well as all herbal products and supplements that you take. To explain, they can make birth control less effective or increase the risk of side effects.
Can I use Qlaira if I smoke?
You should stop smoking when taking Qlaira, especially if you are over 35 years of age and a heavy smoker. Qlaira can increase the risk of heart-related side effects and other affections if you smoke.
Can I use Qlaira to delay my period?
Yes, you can use Qlaira to delay your period. However, when you take the inactive pills, you may experience spotting bleeding. Also, this type of bleeding is common when you start the treatment for the first time.
Will a pregnancy test be accurate while I'm on Qlaira?
Yes, a pregnancy test can show you if you are pregnant or not, even if you take Qlaira. Pregnancy tests measure a specific hormone in your blood or urine. The active ingredients in Qlaira don't affect how a pregnancy test works.
Can I get pregnant during the week of placebo pills?
No, you can't get pregnant during that period if you are taking the pill exactly as directed. However, if you missed one or several pills, the chances of pregnancy during that period increase. You may use a backup form of contraception, such as a condom, to be safe.
Buy Qlaira online
Qlaira micro-pill is very well-tolerated and often prescribed in the UK. Apomeds provides birth control pills via follow-up prescriptions. To explain, you can order this drug only if you used contraceptives before. All you have to do is take an online follow-up exam. Apomeds is a mediation platform, linking experienced physicians and a registered online pharmacy. Therefore, your answers will be assessed by licensed doctors, to ensure the pill is suitable for you. If your request gets approved, you may order select and order Qlaira online, on this platform. The oral contraceptive, along with the follow-up prescription, will be delivered to your home in the shortest time. Purchasing birth control pills online at Apomeds is fast, easy and convenient. Further information on Apomeds can be found here.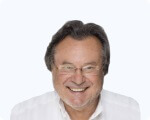 Walter Brinker studied medicine in Cologne. After his specialist training in gynecology and obstetrics and several years as a senior physician, he settled in Remscheid, where he now runs a joint practice with two colleagues. He was educated in the USA, China, Poland, Congo, Zimbabwe and later also taught there. He is also in possession of the American approbation. In Germany he conducts seminars on contraceptives. Through his work abroad, he is also trained in travel medicine and supervises travel groups on exotic trips around the world as a doctor.
Last reviewed: 10.05.2021
Date published:
Last Modify: