What is Spedra?
Launched in 2014, Spedra is a drug that treats erectile dysfunction (impotence) and contains the active ingredient avanafil. This substance is a PDE5 inhibitor, which works by increasing blood flow to your penis, allowing a longer-lasting erection. However, it only works when you are sexually aroused. Spedra has an extremely fast-acting effect in comparison with other similar medications, such as Viagra, Levitra, or Cialis. In most cases, an erection can be achieved within 15 minutes after taking it.
Spedra uses & available dosages
Spedra can treat your erectile dysfunction symptoms, by improving blood flow to your penis. It is an effective impotence treatment, but it can also be prescribed for other health conditions, such as premature ejaculation or an enlarged prostate. The available dosages are avanafil 50, 100, and 200 mg. Keep in mind that Spedra will not protect you against sexually transmitted diseases (STDs). A latex condom is the best protection from STDs during sexual intercourse.
How to take Spedra
The standard dose is Spedra 100mg, but your doctor will decide which dosage is right for you. Take the pill half an hour to 15 minutes before intercourse. You may take with a glass of water, as well as with or without food. However, heavy meals can delay the effect of sexual enhancers. Moreover, avoid drinking alcohol as it increases the risk of side effects such as headaches and low blood pressure. Do not take more than one Spedra tablet per day. Use the medication only when needed, before sexual activity.
Main treatment information
| | |
| --- | --- |
| Product Name: | Spedra |
| Active Ingredient(s): | Avanafil |
| Manufacturer: | Menarini |
| Available Dosage: | 50mg, 100mg, 200mg |
| Drug class: | PDE5 inhibitor |
| Exemption: | Subject to medical prescription |
Spedra Leaflet
Side Effects
The side effects of the drug are similar to those of other PDE5 inhibitors, such as Viagra, Levitra or Sildenafil. They are typically very mild and occur in rare cases, mostly at the beginning of the treatment. Once your body gets used to Spedra, you won't experience the symptoms.
For example, the most common side effects include: :
Headache
Digestive problems
Stuffy nose
Drowsiness
Redness, especially in the facial area
Nausea
In extremely rare cases, you may experience severe side effects that require immediate medical assistance. For more information on Spedra's side effects, please read the Patient Information Leaflet.
Contraindications
Because it contains an active substance, namely avanafil, you should take Spedra only if your health condition is stable.
Do not take Spedra if you have:
An allergy to avanafil or other ingredients found in the pill
Heart disease
Circulatory problems
Eye disorders
Organ damage of any kind
Inform your doctor about your health condition and see if this treatment is safe for you.
Interactions
The active ingredient avanafil can interact with certain medications you are taking.
Do not combine Spedra with:
Nitrates
Inhibitors of cytochrome CYP3A4, as they can reduce the metabolism of Avanafil in the body, and significantly increase the active ingredient
Antibiotics for infections
HIV/AIDS medications
Heart medications
Please read the Patient Information Leaflet to see the full list of drug interactions.
Spedra reviews
In case studies, the drug was very well tolerated, even better than Viagra, in 80 % of the candidates. The drug shows its effect after 15–30 minutes. According to the studies, the effect of Avanafil is more intense than with other potency drugs.
Can I buy Spedra over the counter?

Spedra is a prescription drug, so you can't buy it over the counter. All sexual enhancers are prescription-based, except Viagra Connect. However, if you don't have a prescription, you can always order one online. We offer this service, for free!
What is the difference between Spedra and Viagra?
Spedra is significantly faster than Viagra. Avanafil starts to work in 30 minutes and sometimes as quickly as 15 minutes. Viagra, on the other hand, needs to be taken at least one hour before sexual intercourse. Both Spedra and Viagra remain effective for four to five hours. Any food may slow down the action.
How long does Spedra take to work?
The pill takes 30 minutes (50 mg) or approximately 15 to 30 minutes (100 mg and 200 mg) to work. Do not forget that the drug is effective only in response to sexual stimulation. Also, certain factors, such as heavy meals, can delay the effect. We advise you to take the pill on an empty stomach.
How do I take Spedra?
Take the pill by mouth, with a glass of water, 15-30 minutes before sexual activity. The initial recommended dosage is 100 mg, but you need to discuss this aspect with your doctor.
Buy Spedra online
Your privacy is important to us, so all the details you share will remain 100% confidential. To order the desired ED treatment, complete the medical questionnaire, and wait for the approval from our doctors In case the requested treatment is safe for you, we will issue you a prescription and have the product delivered to you within 48 hours. For more information on how Apomeds works, please click here.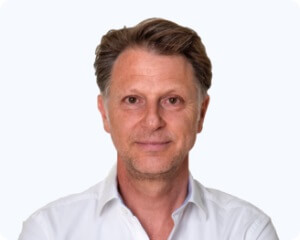 Dr. med. Christoph Pies, born in 1970, studied medicine in Bochum and Düsseldorf before he found his true calling as an urologist in a Cologne clinic.Staying abroad has taken him to clinics in Switzerland and the USA (Houston, New York, and Los Angeles). After training as a specialist and senior physician, he became an urologist in 2004, near Aachen. He has additional qualifications in Andrology and Medicinal Tumor Therapy.
Last reviewed: 23.10.2020