What is Vaniqa?
Vaniqa is a cream you apply on your face in case of unwanted hair growth. The active ingredient it contains, eflornithine, prevents new hair growth in the areas that are treated. Eventually, if applied as instructed over a long period, the cream will stop the hair growth completely. This can happen due to the active agent that blocks the enzyme ornithine-decarboxylase, which is responsible for excessive hair growth. Please note that the product is effective only if you apply it frequently and consistently. In contrast to conventional hair removal creams that are offered at drug stores, no skin-irritating ingredients are added to Vaniqa. Using this cream will lead to positive long-term results.
Vaniqa cream composition
Vaniqa is the only hair removal cream that contains the active ingredient eflornithine, an irreversible inhibitor of the enzyme ornithine-decarboxylase, which catalyzes the transformation from ornithine into putrescine and other polyamines that regulate the cell growth. This inhibition decelerates hair formation. Because it is an active ingredient, it can interact with other medications or worsen certain health conditions you have, like tumors or cancer. With this thought in mind, it is important to discuss with a prescribing physician before using the cream.
What is hirsutism and what are the causes?
Hirsutism means hairy in Latin. This term is used to describe a condition that happens when women exhibit typical-male hair growth. It develops through a change from the vellus hair (peach fuzz) into terminal hair (long hair). The causes can be genetic, hormonal or the side effects of the certain medication you are taking for other health issues. These various factors can elicit an increase of androgens and thus the hair on your body grows in a masculine way. It is especially common among oriental women to have prominent hair growth, but this condition is also common in Europe and among fair-skinned and Nordic women. Moreover, excessive hair growth can also be caused by an underlying disease. If the cause is hormonal dysfunction, it is often because of a polycystic ovarian syndrome (PCOS). This condition is accompanied by too much male hormone, obesity, facial hair, and sometimes stubbles on the chin.
How does Vaniqa help?
With the help of Vaniqa cream, women who suffer from facial hair can improve their self-esteem substantially and can avoid the hassle of having to constantly shave or remove their facial hair. You must use the treatment exactly as prescribed by your doctor in order to see some results.
Who can use Vaniqa?
Vaniqa cream can be used by healthy females of all ages (12+), who are not allergic to the active ingredient and do not have any serious health issues. Also, nursing and expecting mothers should not use this product.
How to use Vaniqa cream
According to one study, the hair growth slowed down considerably within eight weeks. This result happened to female subjects who were massaged at least twice daily, with a gap of eight hours, onto clean, dry skin and then left on for at least four hours.
In order to achieve long-term results, apply the cream as instructed for at least 4 months. In case you cease the treatment only eight weeks after using the cream, the initial condition will most likely reappear. If you see no clear improvement after 4 months, the therapy with the cream has to be terminated. You should consult a doctor for a different treatment.
How fast can results be expected?
The first noticeable results are visible after 6-8 weeks, only if the cream is applied regularly. The result is a remarkable decline in hair growth. Besides, you will notice that the hair becomes much thinner or stops growing at all.
Vaniqa Leaflet
Side effects, contraindications and drug interactions
Not all women experience side effects when using this cream. However, when they do, they are very mild and disappear after a few weeks.
Some of the most common side effects are:
Acne
Razor burn
Stinging and burning sensation, if the skin was irritated by, for example, epilation or plucking. After such hair removal, the cream should not be applied for at least 30 minutes.
Hair growth can be stimulated by taking medication against hormonopoietic tumors, like Cyclosporine. The same thing applies to glucocorticoids, which help with rheumatic or allergic diseases, as well as to phenobarbital and phenytoin, which treat seizures.
If you are undergoing hormone therapy, which has a similar effect to the male sex-hormone, do not use Vaniqa cream. Also, in the case of kidney or liver diseases, Vaniqa should not be used. Under no circumstances should the cream be used if you suffer from cancer or tumors.
Order with Apomeds
Before filling a prescription for this medicine, it is important to verify if this is a safe treatment for you. Apomeds connects you to a mail-order pharmacy and EU-certified physicians, who review your medical questionnaire for contraindications and interactions with other medication you are taking. You can order Vaniqa cream on our platform, safely and discreetly. The product will arrive at you in 24 hours!
Buy Vaniqa cream online
After choosing the treatment, you will be asked to fill out a medical questionnaire, which will be reviewed for suitability by our EU-licensed doctors. If there are no concerns, the prescription will be issued for you and delivered together with the medication in a discreet package, directly to your home. For more information please read the How it works Page.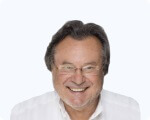 Walter Brinker studied medicine in Cologne. After his specialist training in gynecology and obstetrics and several years as a senior physician, he settled in Remscheid, where he now runs a joint practice with two colleagues. He was educated in the USA, China, Poland, Congo, Zimbabwe and later also taught there. He is also in possession of the American approbation. In Germany he conducts seminars on contraceptives. Through his work abroad, he is also trained in travel medicine and supervises travel groups on exotic trips around the world as a doctor.
Last reviewed: 10.05.2021
Date published:
Last Modify: