What is Vardenafil?
Vardenafil is the active ingredient present in Levitra, an effective sexual enhancer. Although it is not as popular as Viagra or Sildenafil, Vardenafil has a longer-lasting effect. Also, it is a PDE5 inhibitor and works by increasing blood flow to your penis. This allows you to get and sustain an erection. Like all PDE5 inhibitors, Vardenafil does not automatically induce an erection. You need to be sexually stimulated for the drug to work.
Vardenafil uses & available dosages
Vardenafil is a great treatment for erectile dysfunction. Plenty of studies have shown it can help men achieve and maintain an erection, even if they suffer from sexual dysfunctions. Besides, since it is a PDE5 inhibitor, your doctor may prescribe it to you as a treatment for an enlarged prostate. The drug is available in doses of 5, 10, and 20 mg.
How to take Vardenafil
You should take one Vardenafil tablet of 20 or 5 mg, by mouth, with a glass of water. Do not chew the tablet or let it dissolve. In 2010, the fused tablet was also approved (10 mg). This dissolves faster and you can take it without water, which is more convenient. Take Vardenafil about 30 to 60 minutes before sexual intercourse. Most importantly, keep the dosages 24 hours apart! Take the pill only when needed, exactly as instructed by your doctor.
Vardenafil experiences
A study conducted by Valiquette showed that 87% of men on Vardenafil achieved a sufficient erection to satisfy a partner. Another study showed that after taking Vardenafil 10 mg, some men experienced an erection just in 10 minutes.
Main treatment information
| | |
| --- | --- |
| Product Name: | Vardenafil |
| Active Ingredient(s): | Vardenafil |
| Manufacturer: | Accord |
| Available Dosage: | 5mg, 10mg, 20mg |
| Drug class: | PDE5 inhibitor |
| Exemption: | Subject to medical prescription |
Vardenafil Leaflet
Side effects
At the beginning of the treatment, you may experience some side effects when taking the pill. However, they are generally very mild and go away after your body gets used to the substance. The most common side effects include:
A headache,
Facial flushing,
indigestion
Rhinitis (nasal irritation)
Dizziness.
Read the Patient Information Leaflet for detailed information on side effects, as this is not a complete list. Also, let your doctor know if you experience any symptoms when taking vardenafil.
Contraindications
Vardenafil can treat your erectile dysfunction symptoms, only if you don't have any other serious health issues. Do not take this drug if you have the following conditions:
An allergy to vardenafil
Heart diseases
High or low blood pressure
Irregular heart rhythm
Severe liver diseases
Penis deformations
Ulcer
The full list of contraindications is available in the Patient Information Leaflet and we encourage you to read it. Also, it's equally important to tell your doctor if you have any health problems, no matter how small they are.
Interactions
The active ingredient avanafil can interact with certain medications you are taking.
Do not combine Spedra with:
Nitrates
Inhibitors of cytochrome CYP3A4, as they can reduce the metabolism of Avanafil in the body, and significantly increase the active ingredient
Antibiotics for infections
HIV/AIDS medications
By all means, do not combine the pills with other potency drugs! Please read the Patient Information Leaflet for more information on drug interactions.
Is Vardenafil the same as Levitra?

Levitra was launched by the pharmaceutical company Bayer and its original patent has expired in 2018. This made it possible for a generic version to be created. Vardenafil is the generic version of the known erectile dysfunction treatment Levitra, but also its active ingredient. The only difference between the generic version and its branded counterpart is the price and the package.
Is Vardenafil better than Sildenafil?
In a comparative study conducted by Rubio-Arioles, the effects of Vardenafil and Sildenafil were put to the test. It was found that both drugs were equally well-tolerated, but most men reported that Vardenafil helped to achieve better sex sensations. However, what may work for others is not necessarily good for you, too. We encourage you to pick the medication that is right for you, your body type and interests.
How much does Vardenafil cost?
Vardenafil cost range is usually between 8 to 10 euros per tablet. It is a lot cheaper than the brand name drug Levitra which costs around 20 to 25 euros per tablet.
Vardenafil doses
Vardenafil is available in 5mg, 10mg and 20mg doses. To clarify, you should always take only one tablet daily. It's important to swallow a tablet as a whole drinking plenty of fluid. The best fluid for this is just water. Please, do not use grapefruit juice for this task.
How long does Vardenafil last?
The effect occurs about 30 minutes to a maximum of 1 hour after you take the pill. The substance remains in your body up to 5 hours. If you have consumed a lot of greasy food before taking Vardenafil, the effect can be delayed. Also, do not consume grapefruit juice or alcohol, as they can decrease the effectiveness of the pill.
Can I buy it over the counter?
Although it is a generic drug, you can't purchase it without a prescription. To clarify, the medication contains an active ingredient that can interact with other drugs you are taking. Also, it can increase the risk of unwanted side effects in case you have other health problems. In conclusion, it is safer to take this treatment only under the close observation of a doctor.
Order Vardenafil online
You can request a prescription from our E-prescription and pharmacy Service. To do so, please fill in the online medical form. After that, one of our EU-licensed doctors will check and determine if you are eligible. In case this treatment is right for you, then we will have the medication, along with the prescription, delivered to your home, within 24 hours after ordering. For more information on how Apomeds works, please click here. Also read about our medical advisory board.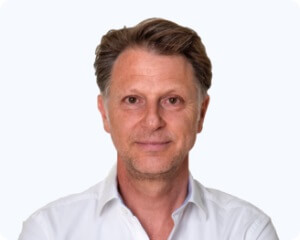 Dr. med. Christoph Pies, born in 1970, studied medicine in Bochum and Düsseldorf before he found his true calling as an urologist in a Cologne clinic.Staying abroad has taken him to clinics in Switzerland and the USA (Houston, New York, and Los Angeles). After training as a specialist and senior physician, he became an urologist in 2004, near Aachen. He has additional qualifications in Andrology and Medicinal Tumor Therapy.
Last reviewed: 23.10.2020