Is Spedra the alternative to Viagra?
---
What exactly is Spedra?
Spedra is a prescription drug containing the active ingredient Avanafil and is used to increase male erectile function. Like Viagra, Cialis or Levitra, Spedra belongs to the group of so-called PDE-5 inhibitors. Avanafil has been approved in the EU since 2013 and has been available in tablet form under the name Spedra since 2014. Spedra is available in different doses of 50mg, 100mg or 200mg.
---
---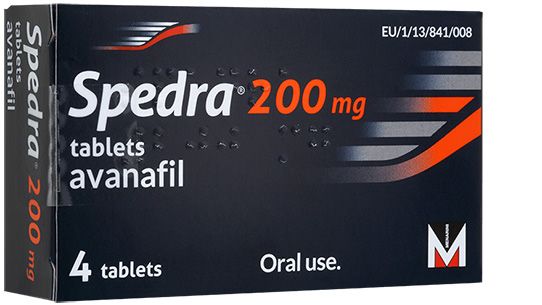 ---
How does Spedra work?
Spedra works like all PDE5 inhibitors. cGMP cyclic guanosine monophosphate (cGMP) and phosphodiesterase type 5 (PDE-5) creates an erection. The active ingredient Avanafil inhibits the PDE-5 and thus ensures that the erection is maintained. For the erection a sexual stimulation is a prerequisite.
---
Spedra dosages and effect
Spedra works very fast and should be taken about half an hour before sexual intercourse. The maximum concentration is usually reached after 15 to 30 minutes. Food can interfere with the effect, so you should not eat too much greasy food or expect the effects to come later. Spedra as described above is available in dosages of 50mg, 100mg and 200mg. It is recommended to start with Spedra 100mg and then adjust the dosage accordingly. If the effect was too strong, it should be reduced to 50mg, if the effect was not as you hoped for you can increase the dose to 200mg. However, you should not exceed the recommended daily dosage of 200mg.
---
Spedra experience
Most studies looked at dosages of 100 and 200mg. In a study published in 2013, 68
out of 100 participants with Spedra 100mg were able to have a successful sexual
intercourse. In general, the active ingredient Avanafil is well tolerated.
---
Spedra the alternative to Viagra?
Spedra works much faster than Viagra, about 15 to 30 minutes after taking it, in contrast to Viagra that acts about 30 minutes after intake. The duration of Viagra is set at up to 8 hours, Spedra depending on the dosage 6 to 17 hours. The potency drug with of the longest effect is still Cialis with the active ingredient Tadalafil, which lasts up to 36 hours.
Spedra side effects
Read the leaflet carefully before use. Find out about effects and side effects as well as contraindications and interactions. The package inserts for Spreda 50mg, 100mg and 200mg can be found on the Spedra product page.
---
Spedra price
Spedra is available in different pack sizes from 4 to 32 tablets. The price depends on the number and dosage. Spedra prices at Apomeds.
---
Can you buy Spedra without a prescription?

There are many sites on the internet where you can get spedra and other prescription drugs without a prescription. It should be noted that there are good reasons why a medication needs prescription. Especially with sexual enhancers, there are many fake medicines circulating and may be dangerous. With online practices and health platforms you can now legally, legitimate and still anonymous order branded sexual enhancers.
---
---
Last update: 25.06.2020