Erectile Dysfunction
The development of man's erection is based on a complex process in the brain involving nerves, hormones, muscles and blood vessels. Each of these levels may be disrupted in impotence, so the causes are varied and complex.
According to the University Hospital in Vienna, erectile dysfunction has long been divided into two categories: organic or psychic. Nowadays it is agreed that only a small percentage is purely psychologically caused. Rather, biological, psychological, cultural and interpersonal factors play an important role.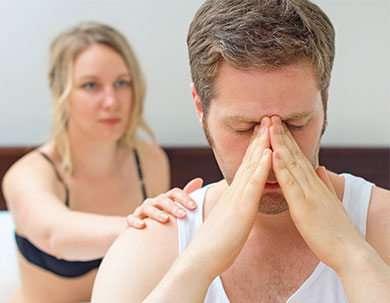 Between the ages of 18 and 41, psychic causes, such as shame, lack of self-confidence, fear of failure, depression, etc., come to the fore as organic age increases. From 50 years or earlier about 80% of the physical causes play a major role.
Regardless of age, about 50% of erectile dysfunction is assumed to have a purely organic cause, about 30% to a purely psychogenic disorder, and 20% to a mixed organic and psychogenic cause.
In 45% of cases, physical illnesses such as diabetes mellitus, arteriosclerosis and vascular anomalies are the cause of impotence.
Organic diseases as the cause of potency disorders
The majority of erectile dysfunction can, according to the experts of the University Hospital in Vienna have different causes:
heart disease
arteriosclerosis
diabetes
overweight
Metabolic syndrome (obesity, high blood pressure, poor blood lipids and high blood sugar)
multiple sclerosis
Parkinson
Low testosterone level
acquired or congenital penile curvatures
Risk factors
Basically, it is a misconception that with increasing age, the ability to erect decreases sharply. The potency can often last into old age. As a rule, erectile dysfunction is a precursor to cardiovascular or other disorders that have been mentioned in the previous section. However, there are also factors that further promote these diseases and also make the use of Viagra potency drugs harmful because the system is heavily burdened:
Smoke
overweight
Psychological causes: stress, anxiety, depression, etc.
Drug and alcohol abuse
The above diseases
Problems with erectile dysfunction
Erectile dysfunction can make life considerably more complicated and cause the following problems:
An unsatisfactory sex life
Stress, depression and fear of "failure"
Shame and low self-esteem
Relationship problems and possible separation
infertility
Therapy of erectile dysfunction
Once the cause of the power disorder has been found, there are different approaches to therapy. These can range from medical support such as hormone therapy with testosterone to psychotherapy to surgery in which a penile prosthesis is implanted.
Levitra of Jenapharm

Vardenafil is the name of the active ingredient in the sexual enhancer developed by Jenapharm. Like Viagra, there is the effect of a permanent erection with simultaneous sexual desire, but with a longer effect through the use of a related and highly effective drug, which also belongs to the PDE-5 inhibitors. After 25 – 60 minutes the preparation works and lasts for 8 to 10 hours. This product is very popular because the effect lasts even longer than with Viagra Original.
Viagra from Pfizer
We carry the proven original Viagra in different dosages. The dosage of Viagra 50 mg is called Viagra Connect. Pfizer gave the product that name, as it can, for example, buy Great Britain without a prescription and is better recognizable under this name. The effect of the original Viagra starts after 30 – 60 minutes. The duration of sexual intercourse can be demonstrably extended by up to 4 hours with Viagra. See here a comparison table of all ED meds.
Cialis from Lilly GmbH
The active substance tadalafil is a PDE-5 inhibitor, as is sildenafil, which is used in the original Viagra. However, this substance promises a very long duration of action. He is therefore highly sought after by men who suffer from complete impotence. This is where the effect comes in after 30 minutes and can last up to a full 36 hours, which does not mean that you will have an erection during this time. Only with sexual arousal the erection sets in and can be activated over this long time again and again. If the sexual arousal goes off, then you have no erection.
Spedra from Berlin Chemie AG
Our newcomer Spedra is an absolute top product. It promises long-lasting sexual intercourse and can show its first effect after just 13 minutes. Spedra supports the relaxation of blood vessels in the penis and is only recently on the market. The product was developed in the USA. The active ingredient is called avanafil and is related to sildenafil, which is used in the original Viagra. This PDE-5 inhibitor works for up to 6 hours and ensures a fulfilling sex life. The potency agent beats all sales records in Germany.
Erectile Dysfunction Medications
So at Apomeds, you can get a prescription for erectile dysfunction medications like Viagra, Levitra, Cialis or Spedra, as well as generics like Tadalafil or Sildenafil online. Just fill out an online questionnaire and a licences doctor will issue you an online prescription. The drug comes directly to your home within 24 to 48 hours, of course discreetly packed! More Information about ordering prescription drugs and the legal situation can be found here.