---
Import of illegal sexual enhancers
Erectile dysfunction is still regarded by many men as a delicate taboo subject. It is often unpleasant for those affected to address the condition. Just the thought of a visit to the doctor is for many men unthinkable. So it's no wonder that more and more men are looking for help for this problem on the net. In this research, you will inevitably come across a lot of dubious sites where drugs for erectile dysfunction are offered. If you enter on Google " Buy potency enhancers online", you will get over 7.2 million results. So many men just order one of these non-prescription drugs online. The worst thing that can happen is that it simply does not work and that you spend your money for nothing, right? But exactly here is the problem. Let me explain why?
---
---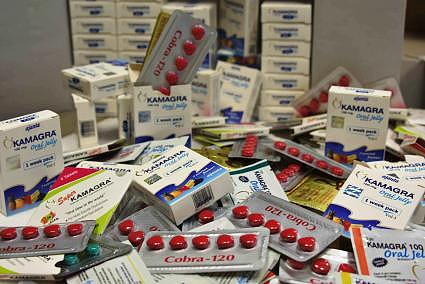 Source: DPA-OTS-Zollfahndungsamt Essen
---
Ordering sexual enhancers on the Internet is in most cases a bad and dangerous idea. In addition to legal consequences such as heavy fines and court cases, improperly composed or incorrectly dosed potency remedies can also lead to damage to health or even death. Not without reason they are prescription drugs in Europe. In addition to counterfeits approved drugs such as Viagra, Cialis and Levitra, you can also order sexual potency enhancers on the Internet, which are illegal in Europe – and all over the counter. Many of them are produced outside of Europe and are distributed from there via online trading all over the world. Most of the illegal sexual enhancers come from India.
---
But how is the import of illegal sexual enhancers legally regulated?
Let's take Germany as an example to explain the legal situation regarding illegal sexual enhancers in Europe generally.
Under German law, medicinal products may only be imported and placed on the market if a corresponding German or European approval has been granted. Checking for a drug is not too difficult. On the website of the German Institute for Medical Documentation and Information you will find an online database operated by the competent German authorities. This contains all currently approved drugs. It also contains medicines that have been previously authorized for marketing but are currently no longer authorized. The same applies to medicines approved by the European Commission, which are available on the European Medicines Agency If a drug is not listed in either of these two databases, it is very likely that there is no approval. It follows that the import, the placing on the market and the sale of the product in UK and Europe are illegal.
---
The State Investigation Office in Germany has published a publication on the illegal import of sexual enhancers. This publication mentions that Internet trafficking with illegal medicines continues to flourish and that this is especially true for erectile dysfunction drugs. As an example of an illegal sexual enhancer called "Kamagra" and referred to as "illegal generic" because the product is not approved in Germany, the UK or Europe and therefore not legal.
Kamagra is probably the best known illegal sexual enhancer. It contains the active ingredient sildenafil, which is also in the legal Viagra. Kamagra is thus a generic form of the most popular sexual enhancer. Neither the competent German authority nor the European Commission has granted approval. Kamagra must therefore not be imported into Germany and /or sold in Germany. In addition, any type of distribution of Kamagra is unlawful. In principle it cannot be prescribed in this country by any doctor and sold by any pharmacy.
---
---
Under German law, the import and marketing of unauthorized medicinal products is punishable (see § 96 No. 5 of the German Medicines Act – an unofficial English translation can be found here. In addition, the marketing of medicines in Germany requires a special insurance to cover the risks of medicines. This obligation applies at least to any medicinal product subject to authorization. Kamagra and all products containing sildenafil require approval. The placing on the market of these products in Germany (i.e. the sale in or to Germany as well as any type of delivery) is a criminal offense, since the requirements for compulsory insurance are not met (see § 96 no. 19 AMG – for a non-official English translation, please click here.
A German press release states that the cooperation of the Irish and German customs authorities means the illegal import of eight packs of 32,700 Potency pills with the names 2 "Kamagra oral Jelly", "Cobra 120" and "Super Kamagra" were discovered and confiscated. It also mentions that preliminary investigations were initiated against the recipient of the pills.
Anyone who orders drugs from abroad illegally on the Internet violates the so-called "ban on movement" and makes himself liable to prosecution. As a rule, penalties are lower at the first occurrence – which may still mean a lawsuit – and increase with the number of violations. Ignorance in this case does not protect against punishment: fines and collection of illegal goods must be expected in any case.
The situation just described is the same in every European Member State. For Denmark, there is only a partial list of illegal sexual enhancers, which can be viewed on the website of the competent Danish athority Among them are some products, with amusing names like e.g. "3 hard knights", "African Superman", "Big Penis", "bigger time more sperms", "Dragon Power" and "Hard Times for Men". Kamagra is mentioned several times in numerous variations (Kamagra, Kamagra 100 Gold, Kamagra Banana (Oral Gel), Kamagra Blackcurrant (Oral Gel), Kamagra Butterscotch (Oral Gel), Kamagra Gold, Kamagra Oral Jelly, Kamagra Orange (Oral Gel), Kamagra Sildenafil Citrate 100 mg tablets, Kamagra Strawberry (oral gel), Kamagra Vanilla (oral gel), Kamagra100) and many more. For some of the Kamagra products, even pictures are available showing the packaging of the products.
---
Operation Pangea
Every year, Interpol, in cooperation with the national police and customs authorities, conducts an international operation against counterfeit and illegal drugs: Operation Pangea. The action took place for the first time in 2008. At that time, only 8 countries participated. This year it was held for the 11th time in October with the participation of authorities from 116 countries. Details on the page of Interpol. The constant growth of online marketplaces and the use of social media for distribution is increasing the number of criminal activities online. The main objective of this operation is therefore to limit the supply of illegal products and to alert the population to the dangers that are posed related to online drug dealing.
---
Operation Pangea in the UK
In this Newspaper article it says that UK authorities have intercepted more than a million doses of drugs worth £2million as part of a global crackdown on fake drugs and medical devices. Also on the UK Goverment website we can find a press release about the Operation Pangea in the United Kingdom. There is also the report of the WHO Global Surveillance and Monitoring System for substandard and falsified medical products.
---
Operation Pangea 2018 in Germany
Within only one week, the customs officers of the main customs offices in Frankfurt am Main, Gießen and Dresden confiscated a total of 1,209 foreign mail and parcels containing around 99,989 tablets, capsules and ampoules. As much as 80% of the confiscated goods made up potency funds. Most shipments came from India, followed by Hong Kong, Poland and Switzerland.
For Germany there is a more detailed account of a specific case of power resources seized during Pangea Operation 2018. This does not mention Kamagra, but there is a photo of confiscated medicines on which the name "Kamagra" is clearly legible.
In Germany, the marketing of medicinal products is controlled by several regional authorities. These authorities occasionally publish information on the importation of medicinal products by private individuals and describe the requirements under which importation may be permitted.
---
Operation Pangea 2018 in Austria
The Austrian customs authority states that 859 arrests took place during Operation Pangea in 2018 and that 3,671 websites selling illegal drugs had been closed."Only one out of 20 medicines sold on the internet is of legal origin" – that is the message in an Austrian newspaper, which is aimed primarily at physicians as a target group. In an article about the Pangea operation in 2015, it is also reported: "The EU-banned and Asia-made potency agent Kamagra is making its way to the consumer via the Internet".
---
Operation Pangea 2018 in Switzerland
In Switzerland, Operation Pangea 2018 saw more than 1000 consignments controlled by the FCA, Swissmedic and Antidoping Switzerland in the Zurich-Müllingen postal center. The siwssmedic describes that during the Pangea operation 2018 in Switzerland 304 shipments of illegal drugs were discovered and that 87% of the drugs seized were sexual enhancers. Of these 87%, 50% were of poor quality.
The following defects were found on the products:
Massive overdose, wrong dosage
Medically questionable combination of two active substances
Contain undeclared chemical agents
Wrong active substance
In addition to potency-enhancing agents also contain other substances such as painkillers, antibiotics, immunosuppressant's or heavy metals
By comparison, in 2017, the share of potency of confiscated consignments was "only" 59%. These figures indicate that the online purchase of erection-enhancing drugs is becoming more and more of a trend.
---
Conclusion
It needs more public awareness of the problem of illegal drug trafficking on the Internet and its dangerous consequences. Actions like Operation Pangea help to create this awareness. Particularly in the next few years, in which more and more activities will be transferred to the Internet, further measures must be taken to actively fight the illegal online drug trade.
One thing is certain, however: those who order illegal sexual enhancers from the Internet are taking a high risk, which in the end is simply not worth it. If you suffer from erectile dysfunction, you should choose the legal way, arrange a doctor's appointment and get a suitable sexual enhancer prescribe. Buy genuine and original medications legal and safe online with registered and regulated online platforms.
---
---
Last Update: 19.04.2020